OA-Interdisciplinary Journal for Religion and Transformation in Contemporary Society (JRAT)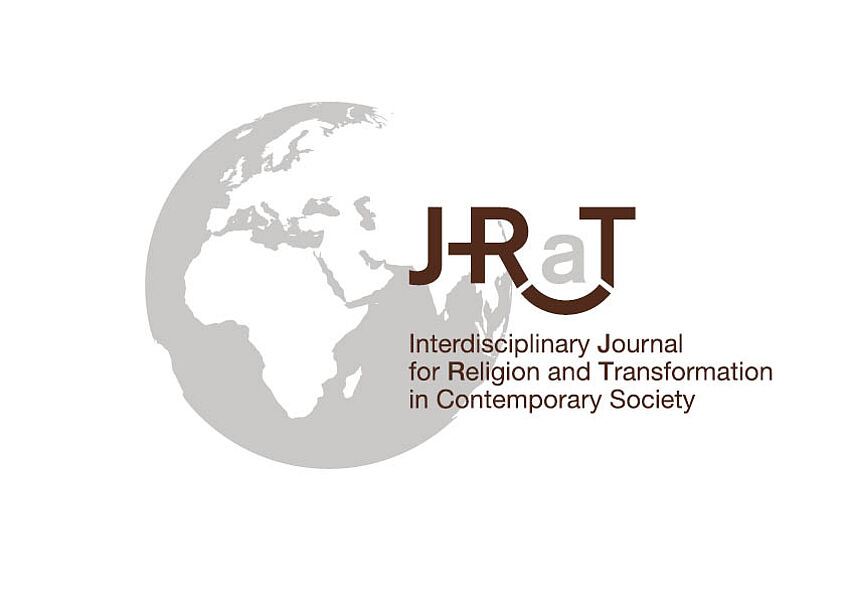 OA-Interdisciplinary Journal for Religion and Transformation in Contemporary Society (JRAT)
The Interdisciplinary Journal for Religion and Transformation in Contemporary Society – JRAT is an interdisciplinary, international, online open-access journal with a double-blind peer-review process. It was established in 2015 with the aim of promoting the research topics of the Research Centre "Religion and Transformation in Contemporary Society" (RaT, University of Vienna) in an international scope. Every issue has a distinct thematic focus which is approached from different disciplines.
The journal aims at investigating the contribution of religion to the cultural, political, juridical, and aesthetic dynamics in present-day pluralistic societies. Vice versa, it examines the influence of the contemporary processes of social transformation on religion and religious expressions. The mutual impact of religious and societal transformation processes requires the collaboration of different academic disciplines, which creates an interdisciplinary research space both for theologians of different religious and confessional traditions (Catholic, Orthodox, Protestant, Islamic, etc.), as well as for researchers in the field of Religious Studies, Sociology of Religion, Social Sciences, Law, Jewish Studies, Islamic Studies, Indology, Tibetan and Buddhist Studies, Philosophy and Pedagogy, etc.
The editors of JRAT are members of the board of the Research Centre RaT, the editorial board of the journal is composed of many renowned international scholars in the fields of study mentioned above.
Jakob Deibl is Director of the Editorial Office. Lisa Achathaler, Martin Eleven, Anna Kontriner and Daniel Kuran are employed in the Editorial Office.
Contact: jrat@univie.ac.at
Print-on-demand is possible.
JRAT 5 (1/2019): Religious Experience, Secular Reason and Politics around 1900. Sources of the Contemporary Turn to Spirituality
The emergence of a scholarly and popular interest in religious experience, spirituality and mysticism around 1900 plays a crucial role in the further transformations in religion in the twentieth century and in contemporary Western and non-Western societies. This volume contains philosophical reflections on the emergence of these new constellations, discourses and practices. The 'rediscovery' of the various spiritual and mystical sources and traditions, and the turn towards the individual's religious experiences, can be situated against the background of a growing critique of global scientific positivism and the rise of secular (atheistic, Marxist) philosophies. The turn to spirituality and mysticism is associated with political projects of anti-imperialist emancipation in for example, India, the Islamic countries, Russia and Latin-America. Through philosophical inquiries into key authors such as Bergson, Blondel, James, Heidegger, Bremond, Weil, Solov'ëv, Rodó, Iqbal and Vivekenanda, this volume presents a comprehensive perspective on the fundamental issues and discussions that inspired the turn to spirituality in a modern era of secular reason.
JRAT 4 (2/2018): The Crisis of Representation
The term "Crisis of Representation" rose to fame through Michel Foucault. The crisis, in the context of this issue, has not only a political and economic dimension, but a cultural, aesthetic and religious one as well. Thus, a serious inquiry into this complex and multidimensional phenomenon requires an interdisciplinary approach. The issue targets the phenomena at hand through 15 contributions – all with unique and innovative approaches to the topic. One common aim that holds the issue together is the analysis of the nature of the crisis, which helps to find suitable theoretical frameworks. On the other hand, the term itself functions as a tool that enables the analysis of specific societal developments. Contributing authors brought with them expertise from their respective fields including philosophy, political sciences, theology, Islamic studies and religious studies. This allowed for a cross-disciplinary approach on the phenomenon with special foci on politics, religions, societies and finance, as well as theoretical developments on current philosophical and post-colonial discourses.
JRAT 4 (1/2018): Moralities of Warfare and Religion
The articles of the sixth issue of the Interdisciplinary Journal for Religion and Transformation in Contemporary Society (JRAT) debate war morals and religion from a longterm historical perspective. The issue brings together researchers from various sciences – history, theology, literary studies, philosophy, and sociology – in order to present recent insights into theories and experiences of war with special emphasis on religion. By focusing on the commitment of combatants and commitments to enhance peace, the contributors provide new insights from a fresh and still unusual perspective. They will spur further discussion of moral commitment in war ethics, the role of religion in war, and of the prospect of peace ethics. Religion played a major role in the life of combatants and non-combatants in WWI, the "seminal catastrophe" (George Kennan) of the 20th century. Religion remains a multi-faceted and steady aspect of warfare that, in some respects, serves as a peace-enhancing worldview.
JRAT 3 (2/2017): Religion, Transformation and Gender
The fifth issue of the Interdisciplinary Journal for Religion and Transformation in Contemporary Society (JRAT) centers on the topic of religion, transformation and sex/gender. The focal point will be on religious and cultural transformation processes and their repercussions on gender roles, constructs and representations on the one hand, and on sex and/or gender transformations which are embedded in the context of specific religious traditions on the other. Transformation is understood here as change, alteration and reformatting. The multifaceted connections between religion, transformation and sex/gender are concretized in an abundance of material and symbolic phenomena and are examined starting from different subject-specific and methodical approaches.
JRAT 3 (1/2017): Religion and Migration
In recent years, the topic of religion in the context of migration has become a major issue in society and politics. Since autumn 2015, the beginning of the so called "migration-crisis" in Europe, also European academic discourse intensifies its research on this highly controversial topic. The 4th issue of the Interdisciplinary Journal for Religion and Transformation in Contemporary Society (JRAT) discusses diverse occurring phenomena within this area from an interdisciplinary perspective. Experts on religious, political and educational science – from demography and theology as well as representatives from Christianity and Islam – reflect transformation-processes on diaspora communities and subjective religiosities, the discourse on religion and migration in political science and the contribution of theology and religious institutions to the challenges of flight and migration. The contributions offer empirical insights into the plural religious field of Europe, which is being transformed intensively by migration.
JRAT 2 (2/2016): Religious Fundamentalism
Fundamentalism is a crucial and inevitable key topic in present society. Although there have been increasing debates about religious fundamentalism during the last years, an interdisciplinary and systematical investigation of the theoretical backgrounds of fundamentalism, its consequences for global politics and its essential meaning for a networked society is still missing. The third volume of the Interdisciplinary Journal for Religion and Transformation in Contemporary Society (JRAT) examines current forms of religious fundamentalism in different religions. Due to current events, main topics are Islamic fundamentalism, Jihadism and the relationship between fundamentalism and the internet, as well as the challenge of fundamentalism for religious education. Moreover, a great part of contributions focuses on critical resources against religious fundamentalism, not least within religious traditions.
JRAT 2 (1/2016): Institutional Responses to Religious Diversity
The second volume puts a focus on institutional responses to religious diversity. The articles deal with a wide range of institutions, including the hospital, the military, the prison, the Catholic Church and state institutions. Contributions to this special issue cover different European contexts (Spain, Fanrce, UK, Belgium, Germany, Austria) and investigate challenges of inner-confessional diversity as well as institutional responses to religious pluralization.
JRAT 1 (1/2015): Religion in a post-secular world
The first edition of the Interdisciplinary Journal for Religion and Transformation in Contemporary Society (JRAT) is especially dedicated to the theme of religion in a post-secular world with a view to analysing the diverse interactions between social transformation processes and religions not only in post-secular European contexts, but also within the broader framework of globalisation. In particular, it examines the different meanings and aspects of the categories of secularisation and post-secularisation in different cultural contexts in order to present analogies and differences within today´s global processes from different academic perspectives.
In addition to the aforementioned focus topic, contribuions also analyse the paradigmatic changes in our symbolic cultural orders to juridical, societal cultural, political, theological and religious-philosophical challenges and how they relate to religious transformations.
Publication schedule
"Human Dignity: Foundations and Applications", ed. by Sigrid Müller, Todd Salzmann, Nenad Polger, Katharina Mairinger 1/2020
Contemporary Challenges to Religious Concepts of Law, ed. by Stefan Hammer
Interreligious Dialogue in Context, ed. by Karsten Lehmann