OA-Interdisciplinary Journal for Religion and Transformation in Contemporary Society (J-RaT)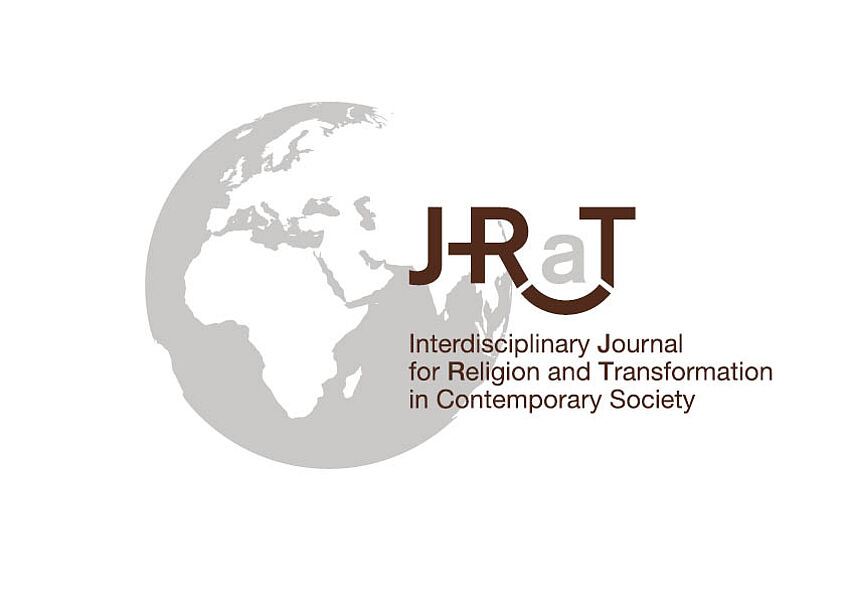 OA-Interdisciplinary Journal for Religion and Transformation in Contemporary Society (J-RaT)
The Interdisciplinary Journal for Religion and Transformation in Contemporary Society – J-RaT is an academic, open-access, peer-reviewed Journal. Each volume contains 7-20 scholarly articles focusing on the role religious transformations play within the growing complexity of the global context, especially taking into account their interactions with paradigmatic changes in the construction of social meanings and value systems as well as on juridical challenges connected with the latter.
The journal aims at investigating the contribution of religion to the cultural and political dynamics in present-day pluralistic society and, vice versa, at examining the influence of the processes of social transformation on religion. Such an approach involves the combining of different academic disciplines and opens an interdisciplinary research sphere for theologians of different religious and confessional traditions (Catholic, Orthodox, Protestant, Islamic, Jewish, Buddhist, Hindu, etc.), as well as for scientists in the field of Philosophy and Sociology of religion, Religious studies, Social science, Law, Jewish studies, Islamic studies, Indology etc.
The editors of J-Rat are members of the board of the Research Platform RaT, the editorial board of the journal is composed of many renowned international scholars in the fields of study mentioned above.
Vandenhoeck & Ruprecht - Vienna University Press edits the journal about semi-annually and will index and make searchable the articles in the most relevant databases. Articles can be published in five languages: English, German, Italian, French and Spanish.
Print-on-demand is possible.
J-RaT-Homepage at Open Journal Systems Opens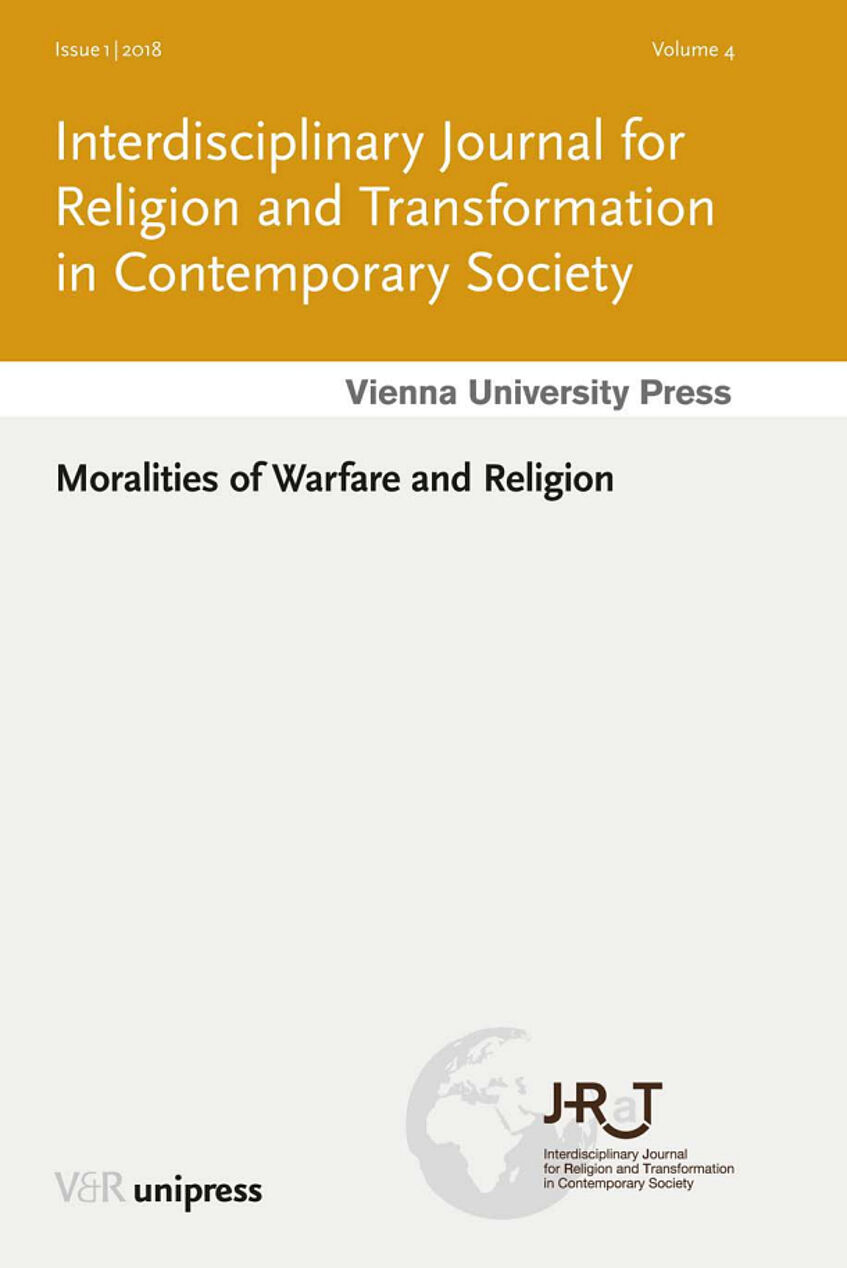 Issue 6: Moralities of Warfare and Religion
The articles of the sixth issue of the Interdisciplinary Journal for Religion and Transformation in Contemporary Society debate war morals and religion from a longterm historical perspective. The issue brings together researchers from various sciences – history, theology, literary studies, philosophy, and sociology – in order to present recent insights into theories and experiences of war with special emphasis on religion. By focusing on the commitment of combatants and commitments to enhance peace, the contributors provide new insights from a fresh and still unusual perspective. They will spur further discussion of moral commitment in war ethics, the role of religion in war, and of the prospect of peace ethics. Religion played a major role in the life of combatants and non-combatants in WWI, the "seminal catastrophe" (George Kennan) of the 20th century. Religion remains a multi-faceted and steady aspect of warfare that, in some respects, serves as a peace-enhancing worldview.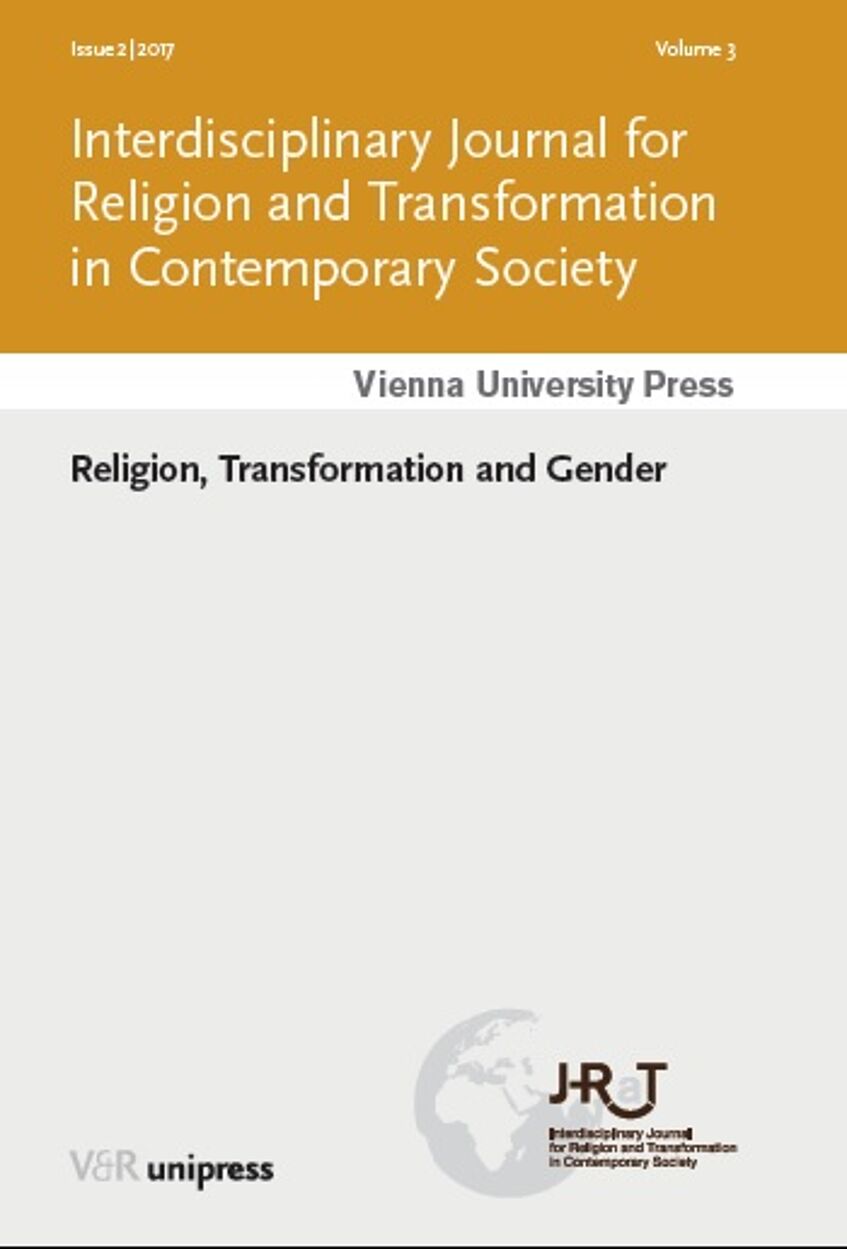 Issue No. 5: Religion, Transformation and Gender
The fifth issue of the Interdisciplinary Journal for Religion and Transformation in Contemporary Society (J-RaT) centers on the topic of religion, transformation and sex/gender. The focal point will be on religious and cultural transformation processes and their repercussions on gender roles, constructs and representations on the one hand, and on sex and/or gender transformations which are embedded in the context of specific religious traditions on the other. Transformation is understood here as change, alteration and reformatting. The multifaceted connections
between religion, transformation and sex/gender are concretized in an abundance of material and symbolic phenomena and are examined starting from different subject-specific and methodical approaches.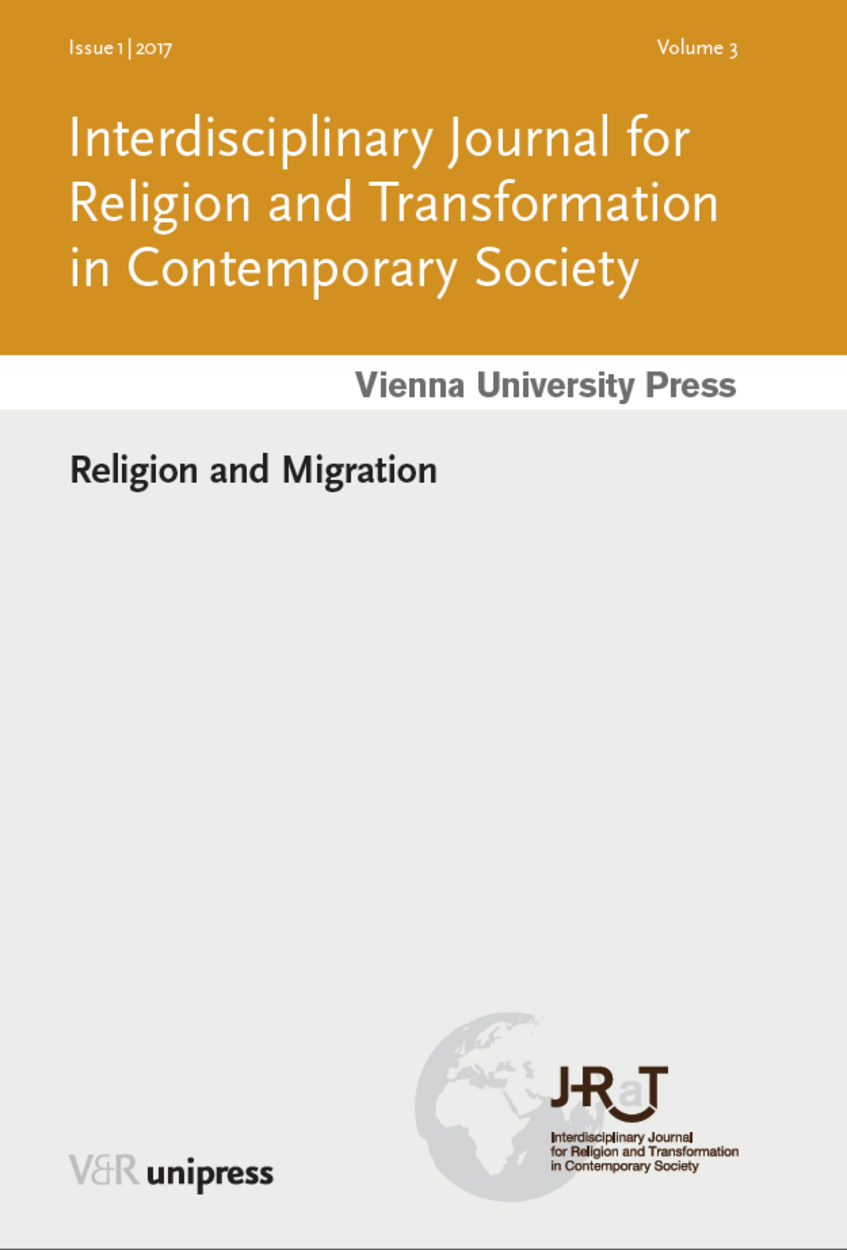 Volume 4: Religion and Migration
In recent years, the topic of religion in the context of migration has become a major issue in society and politics. Since autumn 2015, the beginning of the so called "migration-crisis" in Europe, also European academic discourse intensifies its research on this highly controversial topic. The 4th issue of the Interdisciplinary Journal for Religion and Transformation in Contemporary Society" discusses diverse occurring phenomena within this area from an interdisciplinary perspective.
Experts on religious, political and educational science – from demography and theology as well as representatives from Christianity and Islam – reflect transformation-processes on diaspora communities and subjective religiosities, the discourse on religion and migration in political science and the contribution of theology and religious institutions to the challenges of flight and migration. The contributions offer empirical insights into the plural religious field of Europe, which is being transformed intensively by migration.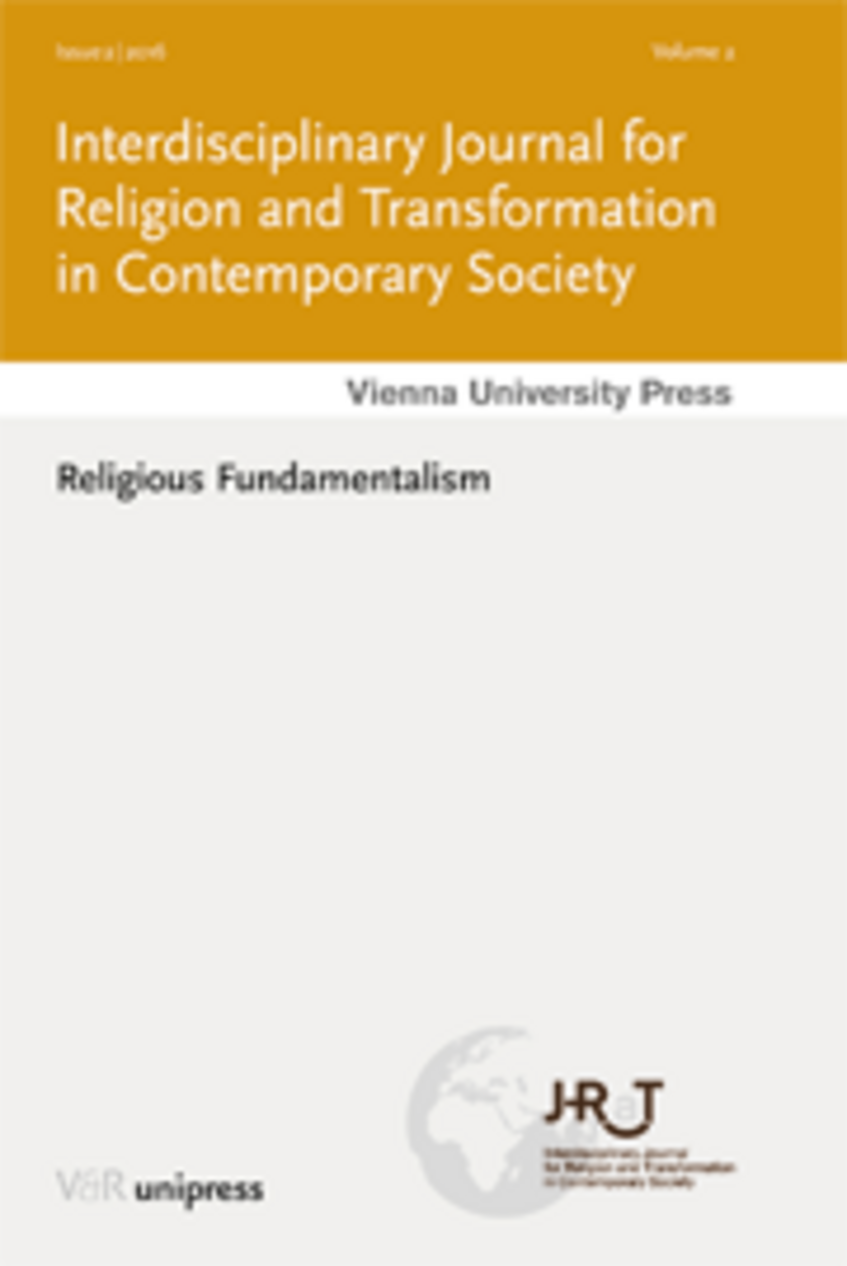 Volume 3: Religious Fundamentalism
Fundamentalism is a crucial and inevitable key topic in present society. Although there have been increasing debates about religious fundamentalism during the last years, an interdisciplinary and systematical investigation of the theoretical backgrounds of fundamentalism, its consequences for global politics and its essential meaning for a networked society is still missing. The third volume of the Interdisciplinary Journal for Religion and Transformation in Contemporary Society examines current forms of religious fundamentalism in different religions. Due to current events, main topics are Islamic fundamentalism, Jihadism and the relationship between fundamentalism and the internet, as well as the challenge of fundamentalism for religious education. Moreover, a great part of contributions focuses on critical resources against religious fundamentalism, not least within religious traditions.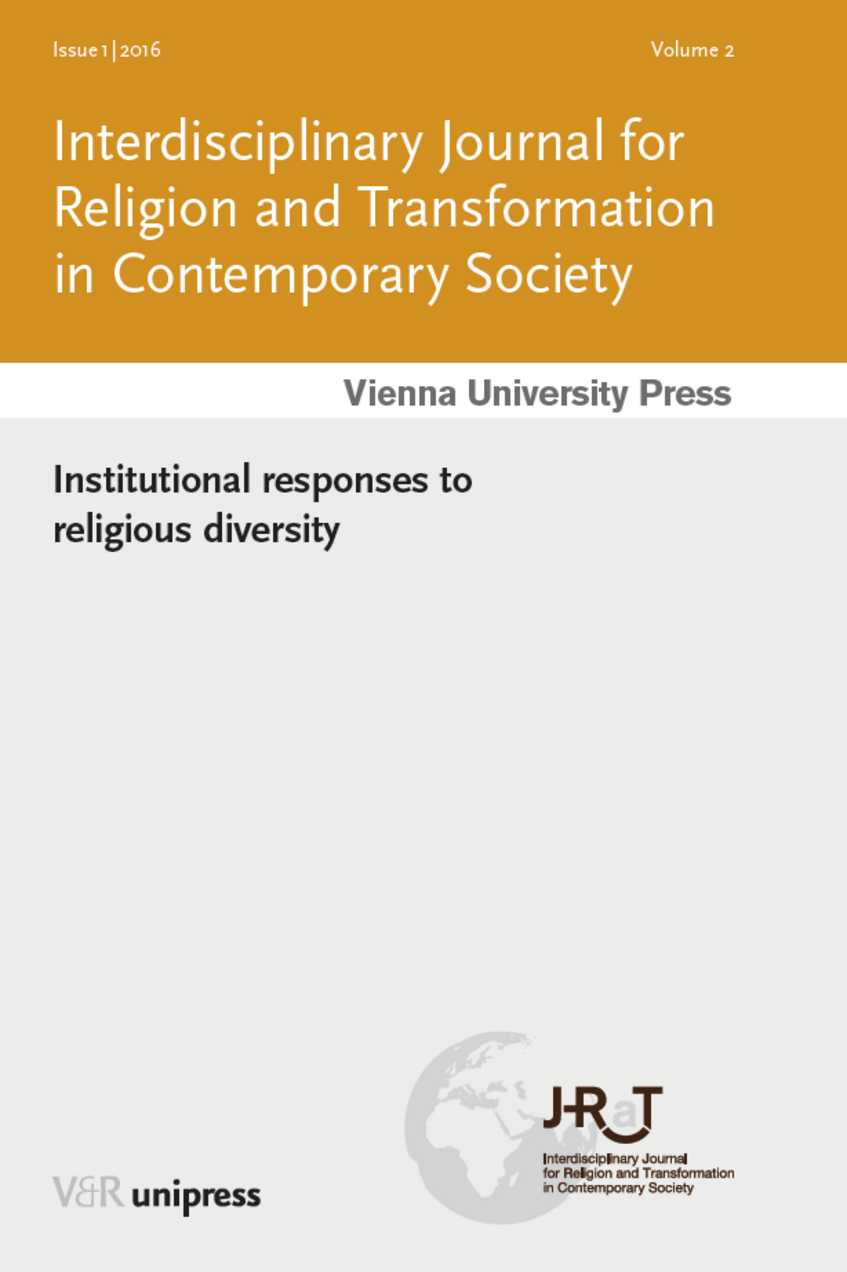 Volume 2: Institutional Responses to Religious Diversity
The second volume puts a focus on institutional responses to religious diversity. The articles deal with a wide range of institutions, including the hospital, the military, the prison, the Catholic Church and state institutions. Contributions to this special issue cover different European contexts (Spain, Fanrce, UK, Belgium, Germany, Austria) and investigate challenges of inner-confessional diversity as well as institutional responses to religious pluralization.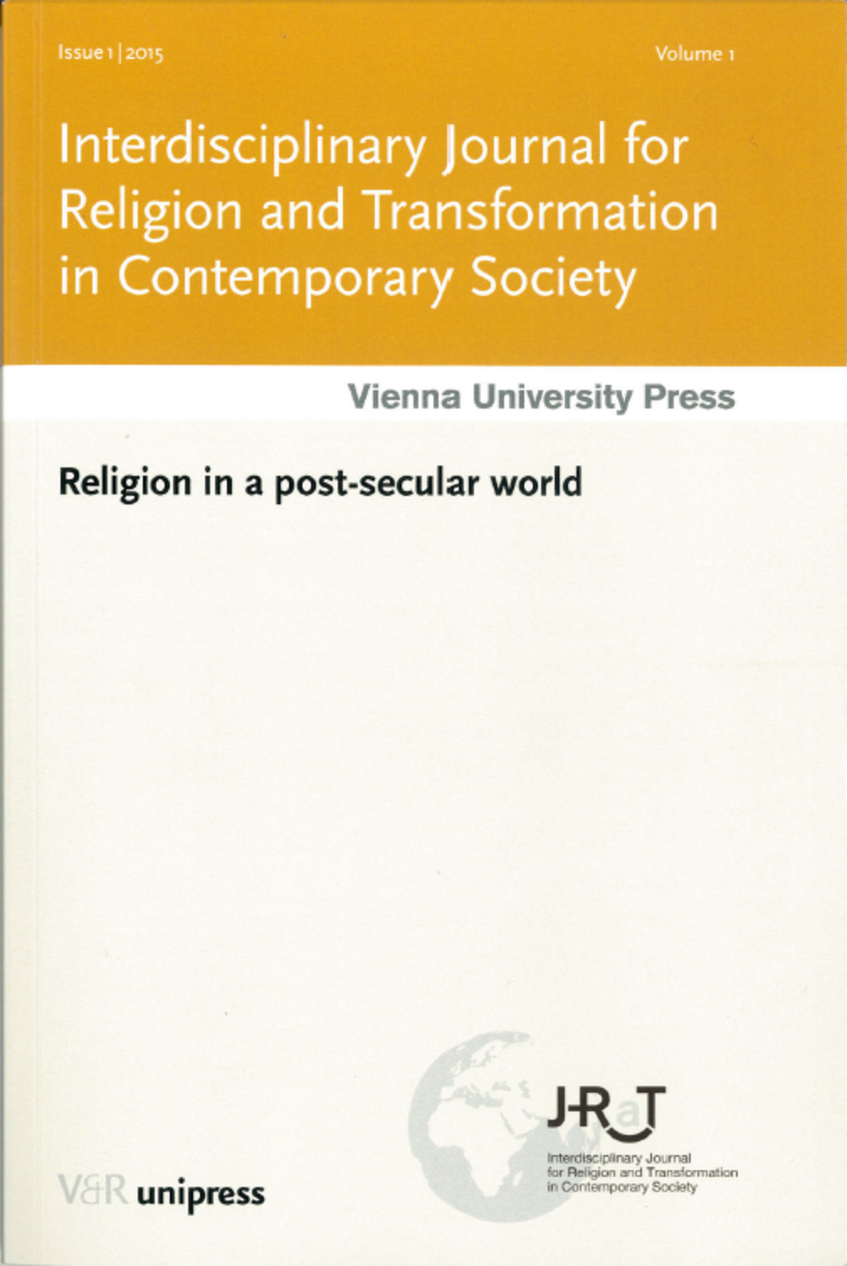 Volume 1: Religion in a post-secular world
The first edition of the Interdisciplinary Journal for Religion and Transformation in Contemporary Society (J-RaT) is especially dedicated to the theme of religion in a post-secular world with a view to analysing the diverse interactions between social transformation processes and religions not only in post-secular European contexts, but also within the broader framework of globalisation. In particular, it examines the different meanings and aspects of the categories of secularisation and post-secularisation in different cultural contexts in order to present analogies and differences within today´s global processes from different academic perspectives.
In addition to the aforementioned focus topic, contribuions also analyse the paradigmatic changes in our symbolic cultural orders to juridical, societal cultural, political, theological and religious-philosophical challenges and how they relate to religious transformations.
Publication schedule
Volume 7: Crisis of Representation (Publication date: December 2018)
Volume 8: Religion, Social Imaginaries and Borders (Publication date: July 2019)
Volume 9: Contemporary Challenges to Religious Concepts of Law (Publication date: December 2019)